Information contained in this news release is current as of the date of the press announcement, but may be subject to change without prior notice.
FOR IMMEDIATE RELEASE
Hitachi Contract Driver Josef Newgarden
claims first victory at the Iowa Speedway in the IndyCar Series
Tokyo, July 22, 2020 --- Hitachi Automotive Systems, Ltd. is pleased to announce that Team Penske driver Josef Newgarden claimed his first victory this season in the 6th race of the IndyCar Series, held at the Iowa Speedway on Saturday, July 18th. Team Penske is sponsored by Hitachi Automotive Systems and the Hitachi Group.

Josef Newgarden secured the pole position after placing first in practice and dominated the race from the very start. Although a mid-race pit-stop saw a change in his position, Newgarden outraced his opponents to lead almost 90% of the laps. Having raised his standing from 4th place to 3rd place in the 2020 series, Newgarden has his eyes firmly set on the season championship title.

The Iowa Speedway is an exciting 0.875 mile (approx. 1.4km) oval track where full-course cautions often occur due to heated side-by-side racing as positions change at a dizzying speed.

Hitachi Automotive Systems is a proud sponsor of Team Penske and Joseph Newgarden.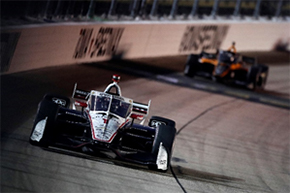 Newgarden's racecar leading the pack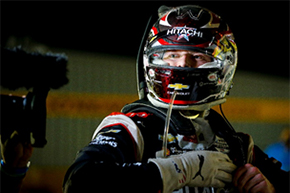 Pole-to-victory for Josef Newgarden
About Hitachi Automotive Systems, Ltd.
Hitachi Automotive Systems, Ltd. is a wholly owned subsidiary of Hitachi, Ltd., headquartered in Tokyo, Japan. The company is engaged in the development, manufacture, sales and services of automotive components, transportation related components, industrial machines and systems, and offers a wide range of automotive systems including Powertrain Systems, Chassis Systems and Advanced Driver Assistance Systems. For more information, please visit the company's website at http://www.hitachi-automotive.co.jp/en/