Information contained in this news release is current as of the date of the press announcement, but may be subject to change without prior notice.
FOR IMMEDIATE RELEASE
Hitachi Astemo to showcase advanced mobility solutions for Aftermarket at GAIKINDO Indonesia International Auto Show (GIIAS) 2023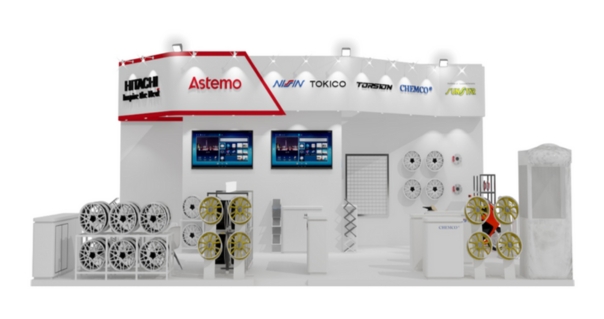 Rendition of booth exhibit
Tokyo, August 7, 2023 – Hitachi Astemo is pleased to announce that Hitachi Astemo Asia Ltd. together with joint venture company PT. Chemco Harapan Nusantara, will attend the 30th Gaikindo Indonesia International Auto Show (GIIAS) 2023, held from Thursday, August 10 to Sunday, August 20, 2023 at the International Convention Center (ICE) BSD City, Tangerang, Indonesia.
Technologically advanced products that improve safety, driving performance and environmental sustainability will be on display. These include aftermarket products for motorcycles, including braking systems, wheels, racing wheels, racing brake parts, disc brakes and merchandise; and for automobiles, shock absorbers, brake pads, brake lining for commercial vehicles, wheels, EMS, IGN Coil, AC gas and fluids, including performance-replacement products. Our world class products make the driving experience safer and more memorable.
Hitachi Astemo and is committed to strengthening its business and innovation through its strategic business portfolio consisting of the Powertrain & Safety systems business, the Chassis business, the Motorcycle business, the Software business, and the Aftermarket business. Aiming for growth centered on "green," "digital" and "innovation", we will contribute to a better global environment through highly efficient internal combustion engine systems and electric systems that reduces emissions; and enhance safety and comfort with autonomous driving, advanced driving assistance systems, and advanced chassis systems. By delivering such advanced mobility solutions, we will contribute to the realization of a sustainable society and the improvement of our customers' corporate value.
About Hitachi Astemo, Ltd.
Headquartered in Tokyo, Japan, Hitachi Astemo is a joint venture between Hitachi, Ltd. and Honda Motor Co. Hitachi Astemo is a technology company that develops, manufactures, sells, and services automotive and transportation components as well as industrial machinery and systems. For more information, visit the company's website at https://www.hitachiastemo.com/en/
PT. Chemco Harapan Nusantara (Indonesia)
PT. Chemco Harapan Nusantara (Indonesia) is a joint venture between Hitachi Astemo Ltd, PT. Prospect Motor & PT. Maya Saribakti Utama, develops, manufactures, and sells high quality brake systems, high performance brake systems, aluminum casting parts, alloy wheels both for motorcycles as well as for automobile and various aftermarket products. For more information, visit the company's website at https://www.chemco.co.id/