Information contained in this news release is current as of the date of the press announcement, but may be subject to change without prior notice.
FOR IMMEDIATE RELEASE
Exhibiting ADAS and EV technologies and products for next-generation motorcycles at EICMA 2023 (Milan Show)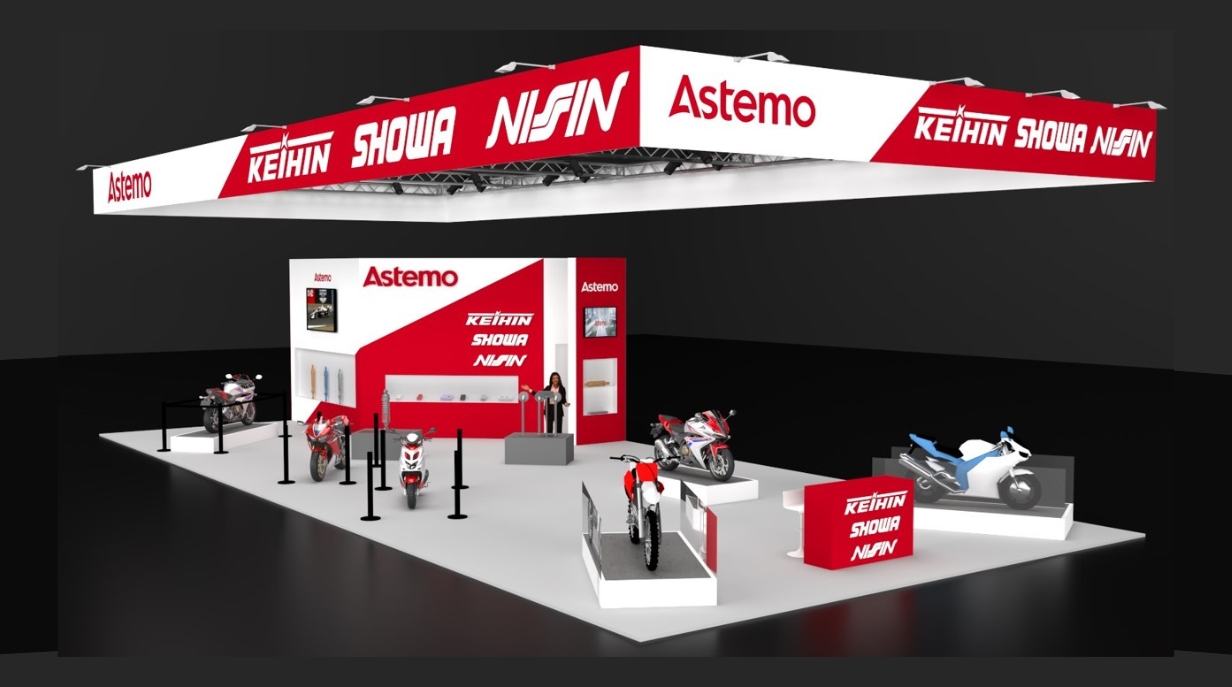 Exterior image of Hitachi Astemo booth (exhibition location: Hall 13 A52)
Tokyo, October 10, 2023 --- Hitachi Astemo, Ltd. ("Hitachi Astemo") will exhibit at EICMA 2023, one of the world's largest motorcycle shows, to be held in Milan, Italy from November 7–12. We will introduce a wide range of technologies and products, including for ADAS*1 and EV*2, and aim to create new value for motorcycles, such as realizing carbon neutrality and greater comfort.
*1 ADAS: Advanced Driver-Assistance Systems
*2 EV: Electric Vehicles

At Hall 13, A52, Hitachi Astemo will introduce ADAS technology to meet the safety and comfort needs in motorcycles, which uses stereo cameras and side-mirror cameras, as well as next-generation electronically controlled suspension. We will also introduce EV system solutions such as the e-Axle, where demand is expected to increase. In addition, we will introduce various brake systems that improve motorcycle safety and ICE products that contribute to improved fuel efficiency.
The main products and technologies to be exhibited are as follows.
ADAS technology for motorcycles
Using sensing devices such as stereo cameras that utilize Hitachi Astemo's image analysis technology, visitors can experience ADAS technology and products for motorcycles that help prevent accidents by "seeing" both the front and rear, contributing to a safer motorcycle ride. The exhibition will feature the technology implemented on an actual vehicle.
e-Axle/EV technology
To showcase our technologies and products that will contribute to improving the environmental value of motorcycles and help achieve carbon neutrality, we will feature a mock-up of the EV conversion of motorcycles, which is achieved by mounting a small e-Axle on the frame, as well as exhibit inverters and EV management units.
Next-generation electronically controlled suspension
Our next-generation electronically controlled suspension combines the comfort of conventional electronically controlled suspension with excellent cost performance that can be applied to small bikes. By actually riding on a vehicle atop a shaker device at the exhibit, you will be able to experience how the suspension contributes to a comfortable ride.
Hitachi Astemo is committed to technological innovation and business enhancement for sustainable growth through strategic business portfolio operations by the Electrification Business Management Division, Chassis & ICE Management Division and Motorcycle Business Division. It will contribute to a better global environment with electric powertrain systems and highly efficient internal combustion engine management systems that reduce emissions, while improving safety and comfort with autonomous driving, advanced driver assistance systems and advanced chassis systems. Hitachi Astemo will contribute to a sustainable society and improved quality of life by providing world-leading advanced mobility solutions that satisfy our customers.
Company Profile
Hitachi Astemo, Ltd.
Head Office: New Otemachi Building, Otemachi 2-chome, 2-1, Chiyoda-ku, Tokyo
Business: Development, manufacture, sales and service of machinery and equipment and systems for automotive parts and transportation and industrial use