Suspension Systems
In response to increasingly complex customer needs we are improving our dampers for enhanced responsiveness and reduced size. We are also increasing the sophistication and integration of our control systems, including the ECU and software in order to improve riding comfort and handling stability.
Suspension Strut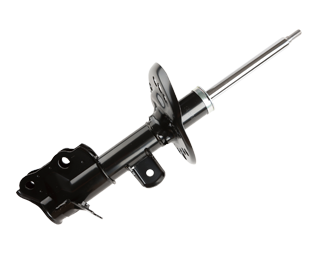 Suspension is a critical product that contributes an automobile's performance, not only improving ride quality but also controlling the stability of the vehicle.
Mono Tube Shock Absorber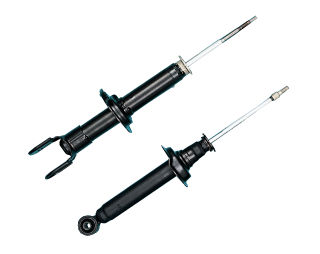 By adopting a mono-tube design, the shock absorber can be made more compact, allowing for greater flexibility in the design around the vehicle's suspension. In addition, the structure of the shock absorber with the high-pressure gas sealed inside provides excellent responsiveness, allowing damping force performance to be improved to match the characteristics and region of the vehicle in which it is installed.
Frequency Reactive Damper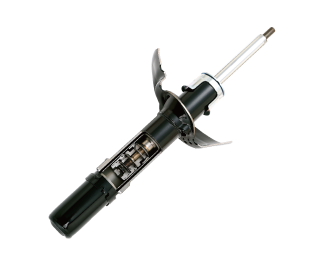 The damper uses a mechanical-type structure that automatically adjusts damping force based on the frequency of the vibrations transmitted from the road surface, achieving a high level of both operation stability and ride comfort.
Semi-Active Suspension Systems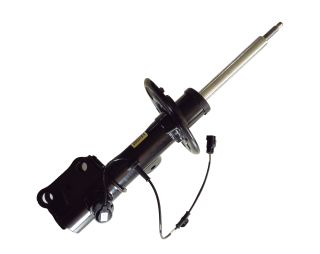 In addition to dampers with a uniquely designed damping force adjustment mechanism, the systems are installed with electronic control devices such as ECUs and sensors. By adjusting the damping force to the optimum level according to the road surface and driving conditions, these products provide a high level of handling stability and ride comfort.
Steering Systems
Our product lineup has been extended to meet the diversifying needs of the expanding electrification market. Our products offer high responsiveness and control for improved steering performance.
Electric Power Steering System (Belt Drive Rack Assist Type)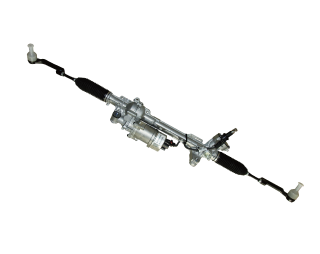 This is a highly efficient type of power steering gear that transmits assistance force by the belt drive with the assist motor placed parallel to the rack shaft to reduce steering force. In addition, the ECU and motor are redundantly designed to support automatic driving, which improves reliability and assist continuity.
Electric Power Steering System (Pinion Assist Type)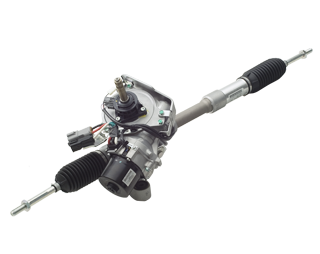 The power-assisting section of this system is arranged in the pinion-shaft (input-shaft) section. This is a suitable system for compact cars, from small cars using brush motors and those using brushless motors appropriate for high-grade compact cars with high performance and output. We offer a broad lineup of products.
Electric Power Steering System (Dual Pinion Assist Type)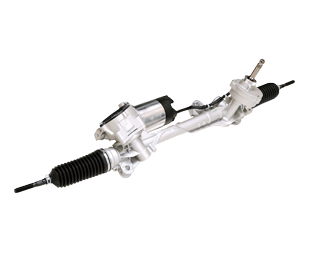 The steering rack is equipped with two pinions, one of which connects the steering shaft in a conventional manner, and the other connects the power assist motor. Together they provide smooth initial turning or turning back of a steering wheel, giving the driver an excellent steering feel.
Manual Steering Gear for Column Assist EPS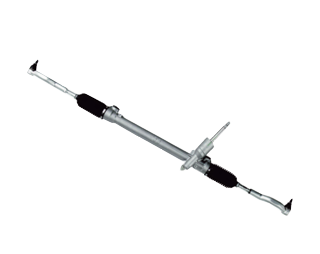 This is a component of the column-assisted electric power steering system used in light, small, and medium-sized vehicles, and is characterized by its light weight and high rigidity. Since the steering gear ratio can be varied in relation to the steering angle of the wheel, it is possible to achieve a good balance between stability and maneuverability.
Multiuse EPS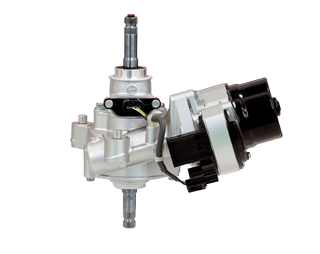 Based on electric power steering technology for automobiles, the EPS has excellent durability and reliability and is widely used in ATVs (All-Terrain Vehicles) and MUVs (Multi Utility Vehicles).
Power Steering Pump (Variable Displacement Type)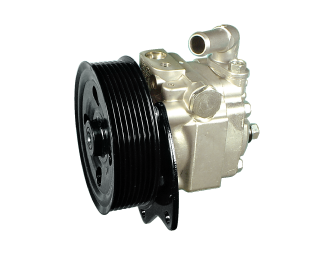 Since the drive torque of variable displacement type pumps are lower than that of the fixed displacement types the pump can improve fuel economy. The pump also generates less heat, which suppresses a rise in oil temperature in the power steering system, making it possible to simplify or eliminate cooler piping. With a wide range of product variations, this product can be applied to everything from passenger cars to large trucks.
Drivetrain Systems
We offer a wide range of products including compact, lightweight, and quiet differential gears, lightweight and high-rigidity CFRPs and aluminum propeller shafts, and propeller shafts with collision safety measures. Together these products contribute to improving the stability and driving performance of four-wheel drive vehicles.
CFRP Tube Type (Propeller Shaft)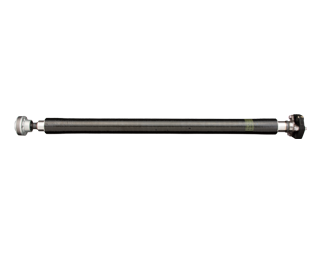 The CFPR Tube Type is lighter than steel tubes and contributes to improved fuel efficiency. In addition, while steel tubes are made in two pieces which increase the number of critical rotations, we have optimized the bending eigenvalue and torsional strength by adjusting the winding angle of the carbon fiber to make it possible to make it one piece. In the event of a vehicle collision, the structure is designed to crush easily in the axial direction under low load and mitigate risk to passengers.
CFRP: Carbon Fiber Reinforced Plastics
Impact Absorbable CVJ Type (Propeller Shaft)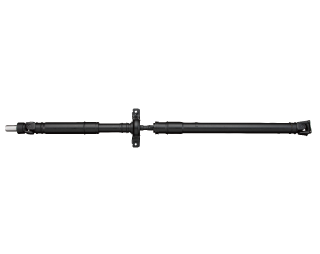 The propeller shaft absorbs the impact of vehicle collision. The tube and constant-velocity joints contract for a sustained period of time under a low load to absorb impact and mitigate harm to passengers
Single-piece-type Propeller Shaft
Where the engine and axles are separated from each other, as on four-wheel-drive and rear-wheel-drive vehicles, the propeller shaft transmits the drive force generated by the engine to the axles. The friction welding adopted at the junction contributes to improved strength, quality, and durability of the junction. We have reduced both the number of components and weight.
2-piece-type / 3-piece-type Propeller Shaft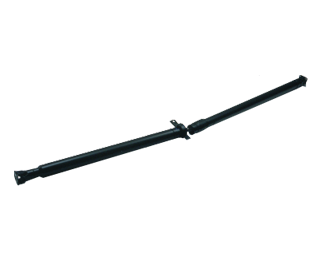 The division of the propeller shaft into two- or three-parts enables a reduction in the critical number of revolutions preventing vibration issues from occurring when the length of the shaft is increased. A dynamic damper inserted into the pipe reduces vibration and noise.
Differential Carrier Assembly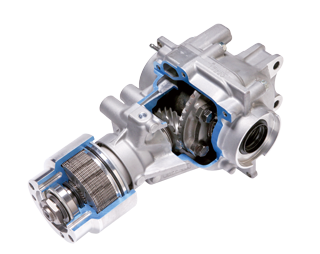 The differential gear is a part of the power transmission device. The driving force generated by an engine is transmitted to the tires through various types of bevel gears. The differential gear assembly absorbs rotational differences due to the direction change of the rotational axis drive and/or the rotational differences between the right and left wheels that lead to smooth cornering.
Rubber Coupling Type (with Lobro Joint)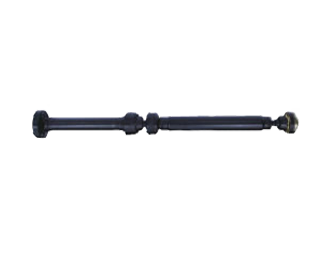 Rubber coupling is a joint composed of nylon cord and rubber that molds to the cord, and is effective in blocking engine vibrations by reducing the rigidity in bending, torsion and axial direction. In addition, the Lobro joint has zero internal gap, which reduces imbalance and suppresses muffled noise at high speeds. This combination makes it possible to improve the sound vibration and quietness of the vehicle.
Hypoid gear set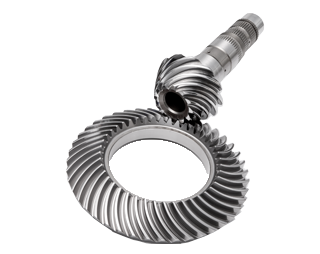 The hypoid gear in the final reduction gear unit changes the direction of drive. The gear converts rotation axis by 90°, and also offsets the torsion position relationship of the two gear axles. This gear set offers high strength and excellent quietness.
Brake Systems
We develop innovative braking solutions that contribute to safety and fuel efficiency through reliable braking technology that supports electrification and weight reduction.
Automated Parking Brake-Disc type (APB)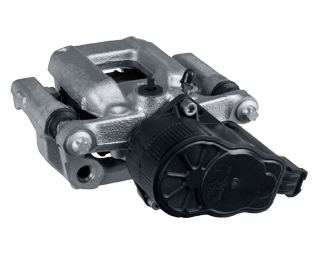 Disc type APBs provide automakers with a variety of advantages such as improved safety, robustness and autonomous driving functions, including automated valet parking. They are also optimized for future e-mobility noise, vibration and harshness (NVH) requirements. The removal of lengthy cables and levers saves space, simplifies assembly processes and eliminates the need for parking-brake adjustments and pre-sets.
APB: Automated Parking Brake
Automated Parking Brake-Drum integrated (APB-Di)
APB-Di is an innovative technology that allows automatic parking for a drum brake. The drum based electric parking brake allows for removal of lengthy cables and levers, saves space, simplifies assembly processes and eliminates the need for parking-brake adjustments and pre-sets. This system is also suitable for smaller cars.
APB-Di: Automated Parking Brake - Drum integrated
Electric Servo Brake (ESB)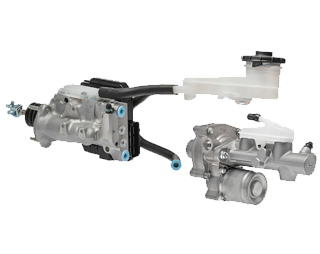 Electric Servo Brake (ESB) is an Hitachi Astemo eActuation solution. Combined with ESC, ESB provides all necessary functions to Electric vehicles (e.g. regenerative braking with high level of recuperation). ESB also ensures redundant functionalities for autonomous vehicle Levels 3 and 4 thanks to the combination with ESC. One advantage of the ESB system is that the pedal simulator is separated from the Power unit; this configuration is particularly suitable to vehicles with low pedal box packaging.
Front Disc Brake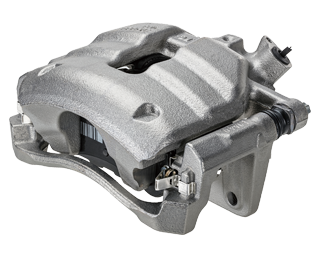 Our front disc brake ZOHe AST™ family is a technology which combines outstanding quality and NVH performance with a high contribution to CO2 savings.
Our innovative ZOHe AST™ even provides zero drag with unchanged pedal feel thanks to a unique combination of a specific material and a patented shape ensuring optimized distance between the pad and the disc during the life of the pad.
ZoHe:Zero Offset Harmonized evolution
Rear Disc Brake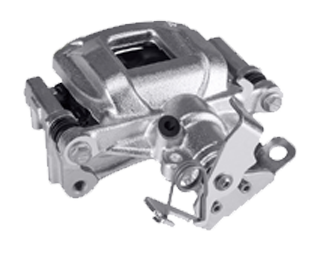 Hitachi Astemo's rear disc brake systems are well known for being the most compact mechanical parking brake solution. Rear disc brakes are adapted to all vehicle ranges.
Drum Brake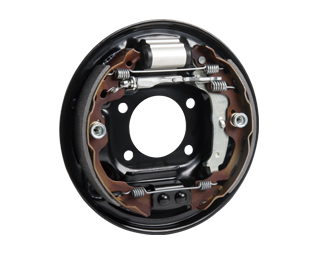 Hitachi Astemo's drum brakes provide high reliability and NVH robustness.
NVH:Noise, Vibration and Harshness
Aluminum Knuckle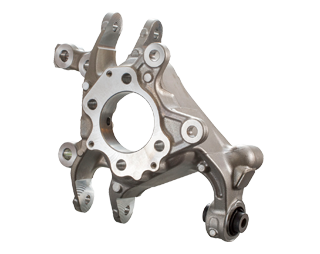 Aluminum knuckles are important platform parts which are connected to each arm of the suspension. They connect tires, discs and other parts to the car body. Reduce weight to improve fuel efficiency is one of our critical goals. By introducing high-strength aluminum materials, excellent elongation and high-quality casting technology, we have achieved a weight reduction of 30% to 40% compared to steel.