Information contained in this news release is current as of the date of the press announcement, but may be subject to change without prior notice.
FOR IMMEDIATE RELEASE
Newgarden Sweeps INDYCAR SERIES Doubleheader in Team Penske's Hitachi Chevrolet
・Reigning Indianapolis 500 winner Josef Newgarden becomes first driver to sweep the weekend at Iowa Speedway
・Hitachi Astemo provides fuel-system components for NTT INDYCAR SERIES engines
FARMINGTON HILLS, Mich. – Josef Newgarden drove his No. 2 Team Penske Hitachi Chevrolet to a recording-setting two-victory weekend at Iowa Speedway.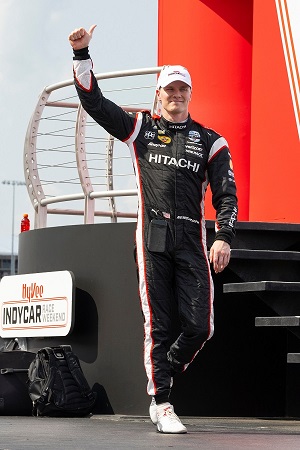 Josef Newgarden
Team Penske
Newgarden has taken the checkered flag at all four NTT INDYCAR SERIES oval-track races this year, including the Indianapolis 500. With Sunday's (July 23) win in Iowa, he becomes the first driver to win an INDYCAR doubleheader since Graham Rahal's back-to-back 2017 wins in Detroit.
A five-time winner last year, Newgarden now has 29 INDYCAR career wins, is looking for his third series title in 2023 and is currently the leading American driver in the series.
Coupled with an oval race win last August, he also joins legendary Indy 500 winners A.J. Foyt and Al Unser as the only drivers to notch five consecutive oval wins in series history.
"It's great to have a doubleheader," Newgarden said from the winner's circle in Iowa. "Hitachi has been with most of my victories....so to be with them and have them on the car is fantastic. I'm proud to be part of Team Penske and proud to have partners like Hitachi and Team Chevy."
Hitachi Astemo provides fuel-system components for all of the 2.2-liter, twin-turbocharged Chevrolet racing engines in the INDYCAR SERIES. Hitachi's partnership with Team Penske enters its 12th year in 2023.
"We are seeing another exciting and successful INDYCAR season with Josef Newgarden's Indy 500 victory and oval-track winning streak," said Rob Sharpe, senior vice president, sales & marketing, Hitachi Astemo Americas. "We value our partnership with Team Penske and the opportunity to work with Chevrolet in the development of its highly successful INDYCAR engine program."
He noted that in addition to being a contributor to a variety of successful motorsports programs, Hitachi Astemo technology continues to improve the performance and safety of cars, trucks and motorcycles on streets and highways around the world.
2023 NTT INDYCAR SERIES -- Hitachi Primary Sponsored Races*
| Date | City | Race Course |
| --- | --- | --- |
| March 05 | St. Petersburg, FL | Streets of St. Petersburg |
| April 16 | Long Beach, CA | Streets of Long Beach |
| June 04 | Detroit, MI | Streets of Detroit |
| July 22 | Newton, IA | Iowa Speedway Race 1 |
| July 23 | Newton, IA | Iowa Speedway Race 2 |
| August 12 | Indianapolis, IN | Indianapolis Motor Speedway (Road Course) |
| September 03 | Portland, OR | Portland International Raceway |
| September 10 | Monterey, CA | WeatherTech Raceway Laguna Seca |
*Races where Hitachi and Astemo logos will be prominently displayed on the car of Josef Newgarden, Hitachi's contract driver.
More information is available on Hitachi Astemo's motorsports website:
https://www.hitachiastemo.com/en/motorsports/sponsorship/indy.html


About Hitachi Astemo, Ltd.
Headquartered in Tokyo, Japan, Hitachi Astemo is a joint venture between Hitachi, Ltd. and Honda Motor Co. Hitachi Astemo is a technology company that develops, manufactures, sells, and services automotive and transportation components as well as industrial machinery and systems. For more information, visit the company's website at https://www.hitachiastemo.com/en/.
About Hitachi Astemo Americas, Inc.
Hitachi Astemo Americas, Inc. manufactures and markets engine management, electric powertrain and integrated vehicle controls for major automotive manufacturers worldwide, adhering to ISO/TS:16949:2009 industry standards. Additional information about Hitachi Astemo Americas is available at https://am.hitachiastemo.com/.
About Team Penske
Team Penske is one of the most successful teams in the history of professional sports. Cars owned and prepared by Team Penske have produced more than 600 major race wins, over 670 pole positions and 43 championships across open-wheel, stock-car and sports-car racing competition. Over its more than 55-year history, the team also has earned 18 Indianapolis 500 victories, three Daytona 500 Championships, a Formula 1 win, victories in the 24 Hours of Daytona and the 12 Hours of Sebring, along with a win in Australia's legendary Bathurst 1000 race. In 2023, Team Penske competes in the NTT INDYCAR SERIES and the NASCAR Cup Series. Under a new Team Penske global partnership, Porsche Penske Motorsport will compete in the IMSA WeatherTech SportsCar Championship and the World Endurance Championship beginning next season. For more information about Team Penske, please visit www.teampenske.com..